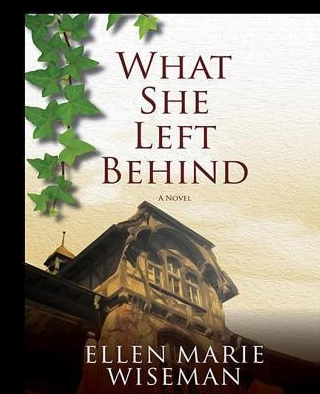 What She Left Behind
By Ellen Marie Wiseman
This book is composed of two interweaving stories. Clara, a woman who lived in the 1930s was committed to a mental institution against her will based on her wealthy father's unhappiness about her Italian immigrant boyfriend and her refusal to marry the rich guy that her father picked out for her. The other story is about a current day teenager named Izzy who is a foster child of Peg and Harry after having lived with several previous foster parents since her mother unexplainably murdered her father. Peg is working on a museum project examining newly discovered suitcases of belongings of former patients (including those of Clara) of a now closed psychiatric facility, in order to gain some understanding of their lives. Izzy helps out with this project and finds the diary of Clara and becomes interested in her life.
Being a psychiatrist, I was initially drawn to this book with the idea that I would gain some insight into the lives and treatments of psychiatric patients living in the first half of the twentieth century. This was the case and it included vivid description of the treatment that was done at that time such as ice baths, insulin shock therapy and electroconvulsive therapy (ECT).
Although I never worked in a state hospital, when I toured them in the late 1960s, such treatments except occasional ECT under humane conditions were things of the past. As far as the possibility of someone spending most of their life committed to a mental institution based on the word of her father when she clearly did not have a mental illness, I would like to think that this would not have been possible. Certainly, in modern times from my experience someone being hospitalized against their will would have to go through a legal hearing with the patient being assigned an attorney if they don't have one. Once in a hospital with treatment with modern-day medicines (which were not really available until the 1950s) most mental illness can be put at least in temporary remission with such treatment. Today, there would be reviews by multiple doctors with no mandate to keep the person in the hospital against their will unless they were a danger to themselves or others due to a mental illness. I would hope that nothing like Clara's situation could occur today. Obviously, I can't speak for every state hospital in the United States and certainly things were different in the 1930s.
There was another aspect of Clara's case was particularly disturbing to me in that the psychiatrist in charge of her care was depicted as a mean, cruel, selfish man who was mainly responsible for Clara's lost life. I felt it was an unfair indictment, which suggested all psychiatrists of that time might have been of the same cloth. I understand that the author has the creative choice to develop characters in whatever fashion she chooses. I probably would not be complaining if the character were a dishonest lawyer who did unsavory things in the interest of an interesting storyline but nevertheless, I felt that this book was stigmatizing my profession.
There was particular theme of this book, which also had a special interest to me. Three characters in the book were driven to try to understand their early origins. Izzy, understandably could not fathom why her beloved mother murdered her father. This ultimately led her to empathize with a schoolmate who had some parental trauma. It contributed to her mission to find Clara's daughter who was essentially separated from her at birth, and hand over her mother's diaries so she could know about her mother's story. Clara's daughter led a life of yearning to know what happened to her mother and Clara similarly went through life wanting to know what happened to her daughter. This is a variation of a theme, which I have seen played out in many people's lives as well as in some interesting movies. Persons, sometimes separated at birth or when they are quite young often yearn to know their biological parent or parents with whom they may have had no relationship for decades. I have reflected on the psychodynamics of these issues in a psychiatry blog that I write. Therefore, I was particularly interested to see how they played out as major motivating factors in the characters in this book.
I believe the author Ellen Wiseman has created an intriguing story that will hold the interest of the reader whether or not you come from a psychiatric background.
Category: FG - Fiction General, FH - Fiction Historical, MHP - Mental Health/Psychiatry | Tags: ECT, electroconvulsive therapy, Ellen Marie Wiseman, ice baths, insultin shock therapy, mental hospital, mental illness, mental insitution, psychiatric hospital, psychiatrist, psychiatry, separated at birth, state hospital, unknown biologicall family, What She Left Behind Comment »