December 16th, 2016 — 1:05am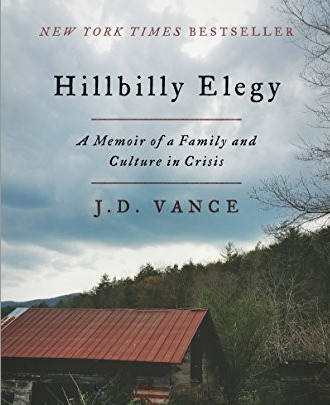 Hillbilly Elegy: A Memoir of a Family and a Culture in Crisis
by J.D. Vance
This is a compassionate view of the white lower working class in which the author grew up. It provides an insight to the part of rural America which supported the incoming President of the United States, Donald Trump. The author proudly wears the name "hillbilly" and acknowledges that many parts of America look down upon that designation.
J.D. Vance grew up in Middletown, Ohio after his grandparents immigrated from Kentucky where coal mining jobs and other work were drying up and the mills and factories of the Mid-West seemed to offer opportunity for employment and some upward mobility. As we know, more recently there have been rough times for this area which became known as the "rust belt." If you are not coming from a family of some means that is handed over to you, one must rely on the character traits that you have that will motivate you and allow you to navigate in this world. Family is very crucial here. J.D. Vance certainly did not have a role model from his parents. His mother, who showed flashes of caring for him did not provide emotional or any other type of support. She was a drug addict who ran through about five different husbands.
J.D. Vance's saviors were his grandparents. His grandfather known as Papaw was probably an alcoholic who at least had a job but didn't form any strong bond with the author. The most important person to him in his youth was his grandmother known as Mamaw – a very tough woman with whom he periodically lived and who gave him confidence in himself. He was obviously bright but came very close to dropping out of high school. Thanks to Mamaw, an occasional teacher and perhaps one or two other relatives he developed the "right stuff" not only to graduate high school but then had the where with all to join the United States Marine Corps where he served for four years. Having recently seen the movie "Fences" starring Denzel Washington and Viola Davis, we also appreciated another situation where joining the Marine Corps after high school, in this case a young black man was able to receive support and direction that he couldn't get from his family.
J.D. Vance's success in going through Ohio State University after the Marine Corps and working at various jobs to provide him money that he needed reflected his determination. He was then surprised at getting accepted at Yale Law School with very good financial support because he was probably the most needy student that was admitted that year. His observations of what it meant to be a student at Yale Law School were notable. He made the point that it was the connections and the networking which made all the difference in the world and opened so many doors for him.
Mr. Vance on one hand makes the point that self-will and determination are the necessary ingredients to succeed in the world but he also says that he wouldn't have succeeded without the love and confidence in him provided by his grandparents. Without these factors he is sure he would not have made it out of Appalachia. This book informs us about the lives, trials and tribulations of people that many of us might never meet. It provides important insight and raises some very stimulating questions. It is a book well worth reading.
To obtain a copy of this book from Amazon, please click here