April 5th, 2017 — 10:23pm
Thank You for Being Late: An Optimist's Guide to Thriving in the Age of Acceleration by Thomas L. Friedman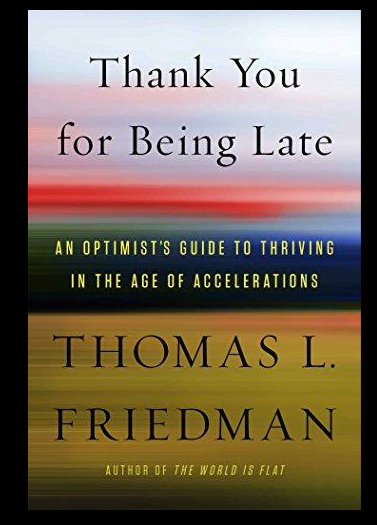 This by far is one of the most interesting, enlightening, and engrossing books that I have read in a long time and I have been reading some pretty good books.
Thomas Friedman has been a reporter, New York Times columnist and author who has been awarded Pulitzer Prize three times for his work. He has the uncanny ability to describe and provide insight into our modern society and where we are going from a historical, political, scientific, and humanistic viewpoint. He draws his experience and insight from his decades of reporting in the Middle East, Washington, DC, growing up in St. Louis Park, Minnesota, having met world renowned people in all walks of life including a parking lot attendant who he met who also writes a blog read in 30 different countries.
I know that the world in which my grandchildren are growing up is vastly different than my childhood experiences but Friedman with a simple explanation demonstrates how different it really is especially driven by technology. He cites "Moore's Law" which is "the observation at the number of transistors in a dense integrated circuit doubles approximately every two years" (which reflects the accelerating scientific advancements in the world). Friedman then asks the reader to imagine the magnitude of change by visualizing a chessboard and putting the grain of sand on the one square and then doubling the amount of sand on each of the successive squares (64 in total on a chessboard). I googled the amount of sand that would be on the last box. It would be 18,446,744,073,709,551,600 grains of sand. It is this projection which illustrates how much scientific advancement is available to neutralize the statistics that show potential climate change, famine, unemployment, population growth, etc. etc.
Friedman wades into so many problems that our changing world is facing but emerges with an optimistic view that we can adapt as Mother Nature has been adapting since the birth of our planet (with the help of Moore's Law). He concludes his book by turning inward and trying to understand himself and the community from where he came. He reviews his years growing up and reviews some recent visits to time visiting St. Louis Park, Minnesota which is a small suburban town where he attended public school and Hebrew school. He examines the values he extracted from his childhood experiences and also optimistically observes how this town is changing today with the new generation of immigrants but yet adapting and solving problems the way he hopes the rest of the country and the world will adapt. While he briefly mentioned his own parents and how they influenced him, I believe he underestimates the impact of the nuclear family and early childhood experiences.
Despite the above, this is not a simple homey book. Friedman deals with most subjects in great depth. He not only shares his own opinion but he cites statistics and conversations with wide variety of experts in every aspect of the subject matter. He reviews statistical trends, history, and in-depth discussions with many people. The hard copy version of this book is a solid 496 pages. You will come away from reading this book invigorated, knowledgeable and perhaps some of Friedman's optimism will rub off on you.
To obtain a copy of this book, please click here