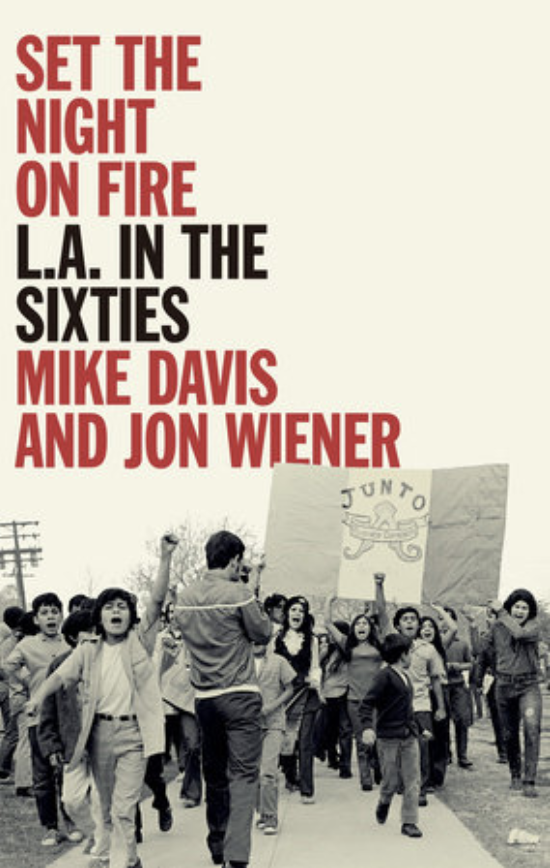 Set The Night On Fire: L.A. In The Sixties by Mike Davis and Jon Wiener
Although I have lived in Los Angeles for more than 10 years, I did not grow up in California nor was I familiar with most of the memorable events which occurred out here in the 1960s. As I have traveled through the various streets and sections of Los Angeles, their names do not resonate and have such familiarity with me is if I were driving through various sections of Brooklyn or Manhattan. Also, although I have been involved and supportive of many civil rights movements during my lifetime, I certainly am not familiar with the many particular groups and their leaders which have been so important in Los Angeles and were depicted in this book. I give this preamble because I have to admit that I have found this book overly long with much detailed facts, names, and events, most of which were not meaningful to me. I can imagine that if you lived through these times or heard about them from your families, it could be more interesting, especially finding out about the behind the scenes facts and stories about people, many of whom have been your heroes. Of course, I remember vividly the incident with Rodney King and the Watts fire and I could appreciate the behind-the-scenes descriptions of these events and the cast of characters.
This book not only covered in great detail the Civil Rights Movement from the early days of NAACP forward to the modern-day black lives matter movement, but it also described in great detail the various smaller groups, which coalesced during this time. There were also detailed descriptions with personal stories, which included the civil rights movements in Los Angeles of women, LGBTQ, as well as those of Hispanics, Mexicans, and various Asian groups. I was also fascinated to learn about the role that students in high schools and even junior high schools played in the past and in recent demonstrations. Apparently, strong vocal groups were also born in the local Community Colleges, which was not widely remembered
I am not sure it is worth trudging through the entire very detailed description of people and events that "set the night on fire." However, the book may be worthwhile owning if you have occasion to refer to specific events, groups and people who lived through this period of time and participated in the events covered in the book, as there is an excellent index at the end of the book which will allow you to bring up people, dates, groups, and events.
Category: HI - History, P - Political, Uncategorized | Tags: Black Lives Matter, civil rights, John Wiener, Los Angeles, Mike Davis, NAACP, Rodney King, Set The Night On FIre, Watts Comment »