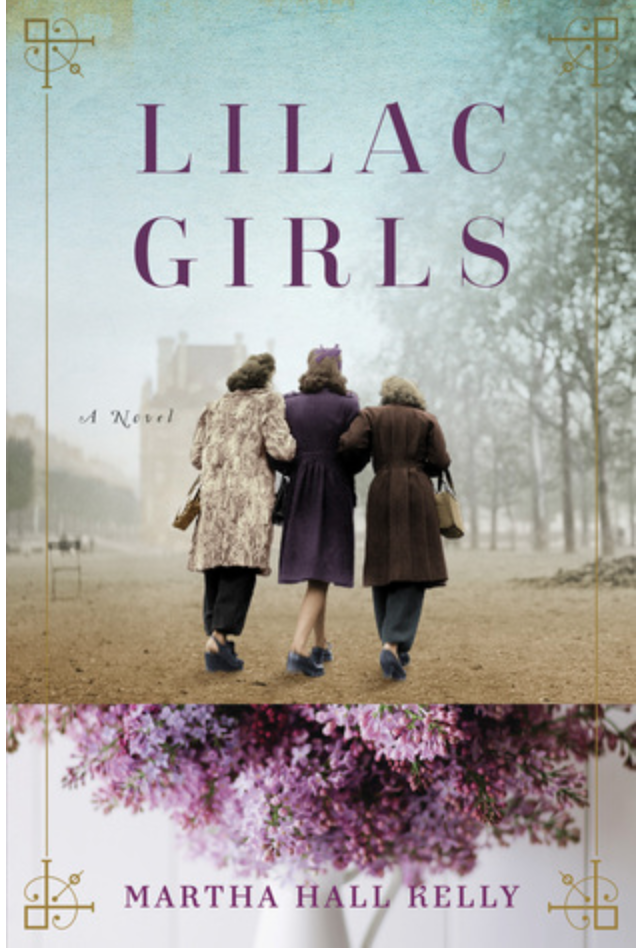 Lilac Girls by Martha Hall Kelly
In the nine years that I have been writing my blog (BookRap.net), more than 10% of the 164 books I have reviewed have had "Holocaust" as a keyword listed in the search section. This does not include the many books on the subject I have read before that time which include three that stand out in my mind; Diary of Anne Frank, Sophie's Choice, and Schindler's List. I was a small child safely living in the United States when World War II ended. While many of my older relatives escaped Europe before the war and none were concentration camp survivors, I felt a deep link with my unknown Jewish relatives and their friends and neighbors who were victims of this terrible atrocity. This connection was reinforced early in my career when I was a director of a mental health clinic in Brooklyn and we saw many survivors and children of survivors.
Early in this book, while I was feeling my usual attachment to this terrible piece of history, I found myself asking, "Why am I going through these events once again?" I thought there was nothing really new here. However, as the book progressed, I did notice that it turned to a specific piece of history which I don't recall as often relived in books and film on the subject; that is the one German concentration camp which was exclusively for women and that was Ravensbruck. It gave a depiction of the horrendous Nazi experiments that took place on these women with cruel and destructive surgery to their legs in order to test the effects of a new antibiotic. The story related how these women were made to participate in slave labor and then were selected to be murdered when they became ill or too weak to work or just to meet a quota for a certain number of murders to be done. After their death, their bodies would be put in an oven for cremation.
While this book is a novel by Martha Hall Kelly, the author did spend several years researching the background of the lives of some of the characters upon which the book was based. She also did appear to earn the right to write this book in the first person, as she appeared to know quite well the characters who were featured in it as she allowed them to tell their story. She went back and forth with each character mostly during the war years, but there were a few chapters 10 to 15 years during the post-war period.
I believe there was a special sensitivity that the author showed from a woman's point of view. The deep mother-daughter relationship was explored in various very difficult circumstances as well as the bond that existed between two sisters in the most terrifying and unimaginable situations. Of course, there also was the connection between other women who were living together through this tragic time.
While this book perhaps becomes another book with a keyword "Holocaust" on my blog, I also know it will be an excellent contemporary novel that will be available and hopefully one with great appeal to today's generation of readers, so this piece of history will never be forgotten.
Please consider leaving your comments below
To purchase this book on Amazon, please click here  
Category: FH - Fiction Historical | Tags: concentration camp, experimentation, holocaust, Lilac GIrls, Martha Hall Kelly, mother daughter relationship, Nazi, Ravensbruck Comment »