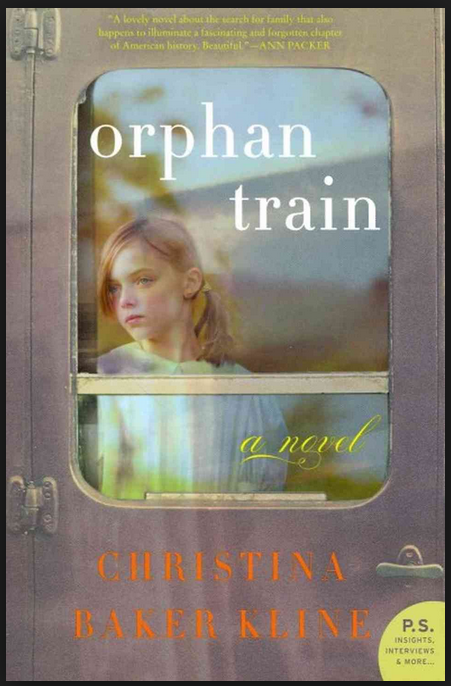 Between 1854 and 1925, there were regular train excursion transporting more than 200,000 orphans from the East Coast to the Midwest in search of people who would take in these orphans. There would be posters displayed in small towns announcing the impending visits of this train with orphans available for adoption. Couples who wanted a child because they could not have one, or because they wished to make an addition to their family, or perhaps because they needed workers to help in the field or their business, would come to the train station to check out the orphan children. These children may have been abandoned because of poverty or the death of both parents. Sometimes, there were dire circumstances of how the parents died, such as we learned about in one of the characters in the book where most of her family was killed in a terrible fire in New York City and there was no one to care for her. There was an organization that kept custody of the children until they could find a suitable person or family who would care for them. Unfortunately, for some of the children, they would end up in indentured slavery. Many were forced to work in the farm fields or do menial tasks such as spending many hours as seamstresses. The expectation that these children would be sent to school was often not followed by the people who took custody of them.
This novel follows a few orphan children who were on one of these orphan trains and tells the story of happened to them. It is quite difficult to view these experiences through the eyes of the orphan children. We see how a child would feel being on display for acceptance or rejection. This story also looks at the powerful, perhaps universal need to search out or locate a biological parent or child that through various circumstances has had no contact with their biological relatives. The desire to meet that person and maintain a bond with them is very powerful and has complicated psychological and perhaps biological determinants. I have written about this topic elsewhere.( click here to see article)
The author, Christine Baker Kline has done her homework and studied the history of the real orphan trains and read many of the writings of the riders of these trains who were now in their ninth or tenth decade of life. Through her interesting and well constructed story, she has enlightened us about an important piece of history as well as providing insight into human relationships.
Category: FH - Fiction Historical | Tags: Christine Baker Kline, orhan train, orhans, search for biological parent or child, The Orphan Train Comment »