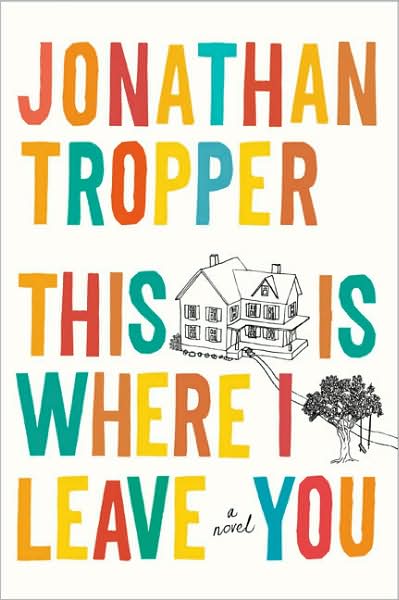 This is Where I Leave You by Jonathan Tropper
A father, the patriarch of the family dies. His three sons and a daughter with their families or significant other return home and join  the widow to sit Shiva for one week  after they are told that this is the surprising and uncharacteristic wish of the deceased. (Perhaps he wanted them to get together?) This becomes the setting for the author through the eyes of one of the sons, to explore the overt lives as well as the inner thoughts of all these participants. Sex, love or the lacks of the latter are the main themes. There is certainly plenty of the former. Mr Tropper has the ability to show his protagonist's every sexual thought in a natural manner which I am sure most men and many women certainly will acknowledge has passed through their minds at one time or the other. He also creates a potpourri of affairs, encounters in the present or rekindled from the past, old flames, new flames, what could have been, what never should have been, fulfilled love, unfulfilled love and a lot more, Each one of these events is very real and I am sure just about every reader knows of some these first hand or knows about them existing somewhere in their family. But all of them in one family? It makes this a far fetched reading experience, albeit quite interesting. The interaction of these family members who on one hand seem to be so different and antagonistic to each other actually turn out to also feel close to each other and deep down quite caring of their family members. As we appreciate the events of their childhood we are also led to consider what role did their parents have in them ending up with this family bond? This stimulates in this writer wondering how our own kids family experiences will influence their relationships later in life when we are gone. It did not escape us that one of the parents (the mother) was some kind of a therapist although a quirky one at that. She had her own theories how to raise children, Probably all therapists, based on their experience treating people and seeing the results of their childhood on their adult problems, have ideas how to  better raise their own children. This reminds me of one of few Yiddish expressions that I know : Es vet gornit helfen!: Nothing will help!!
In my opinion what is missing in this book and what prevents it from being a great novel is that there is no real plot. In the future when the author comes up with an intriguing story line and adds his uncanny ability to capture inner feelings and thoughts, I believe he will bring his writing to a  new award winning level.
Category: FG - Fiction General | Tags: family, Jonathan Tropper, relationships, Sitting Shiva, This is Where I Leave You Comment »