August 20th, 2010 — 7:47pm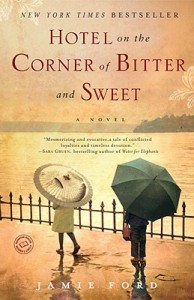 Prior to reading this book, I had recently read Shanghai Girls  by Lisa See which is about two Chinese sisters and chronicles their lives from the horror of the Japanese invasion in China to the painful unfair  discrimination which they encountered  in this country during and after World War II. Hotel on the Corner of Bitter and Sweet
  which is debut novel by Jamie Ford in a sense compliments the other book as it provides insight  into the fate of the Japanese living in the United States approximately during this time period. Most Americans, of course  know very little about this page of our history. This novel  provides a window into what happened when the Japanese families were ripped from their homes and jobs  and put in what were called internment camps by the government but prison camps by the  people who were involuntarily taken there. While the story was quite poignant and sweet, it did not have the complexity of story and the depth of characters, which I thought was present in Lisa See's book.
The story is mostly told through, through the eyes of Henry, a Chinese American who was born in the United States to immigrant parents who expected him to speak English although they could not and maintain their Chinese heritage which  included a hatred of the  Japanese who had attacked their native country. As a youngster he was sent to an upper class white school in Seattle on a scholarship, which meant that he had to help out in the kitchen at lunchtime and clean the erasers after school. While doing this job he meets Keiko, a Japanese girl, also born in the US and sent to this school by her proud parents. They work together, become good friend and even develop an emotional bond which becomes disrupted when she, her family and her entire Japanese community is whisked away almost overnight. The attempt of these barely teenagers to hold on to each other in these impossible circumstances is quite touching. The Hotel Panama is one of the last remnants of the Japanese community and had bordered on the still thriving Chinese community. It is the place where so many of the artifacts of the now transported Japanese Americans have become eternally stored symbolizing their buried memories.
We don't really get to know these characters of this book  as fully formed multi-determined individuals. We are actually introduced to Henry at a point in life where his wife has died and his son is ready to get married. We know very little about him other than that he has this burning memory of his early love at age 12-13 which is locked in his soul. We learn about this phase of his life as chapters flashback to this time .
The mood of the book is unfulfilled forbidden love which perhaps symbolizes the unfavorable lives of the community of people where their most prized possessions reside in this Hotel of Bitter and Sweet also known as the Hotel Panama.  The sadness of loss is also played out in the somewhat lengthy discussion of the Nursing Home death of  Henry's s childhood close friend Sheldon. When the movie of this book comes out , the musical score  will be the soulful  sound  of legendary Seattle jazz musician Oscar Holden which was an important part of this story and  played in the background for most of the telling of this tale.