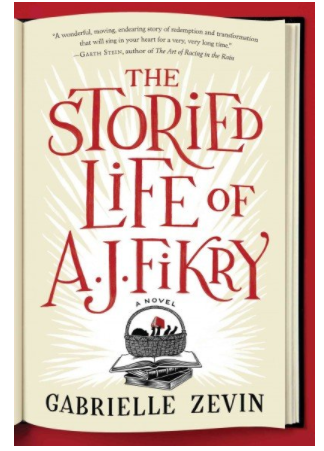 The Storied Life of A.J. Fikry by Gabrielle Zevin
This book as the title suggests is about books and people who love them and love each other.
The story takes place mostly on Alice Island, a small island off the coast of New England. In reality there is no such place but it reminds me of Martha's Vineyard or Nantucket. On this island there is a book store owned and run by a middle-aged man A.J. Fikry who had suffered the premature death of his wife. He also has had the unusual experience of having a woman who he did not know, leave her two year old in his bookstore before she ended her own life by walking into the ocean. Unexpectedly, he decided to adopt this infant and raise her. There is one more event necessary to set the scene for this novel and that is the appearance of Amelia, the new representative from a publishing company whose job would be to periodically a few times a year take the ferry to Alice Island where she would interact with the owner of the bookstore about new book releases. There is chemistry between A.J. and Amelia but there doesn't seem to be an easy way for them to blend their lives.
There are other important characters in this book including Ismay, the sister of A.J.'s departed wife and Lambiase, a local police officer who falls under the spell of books and this bookstore.
There is an important concept in psychiatry called psychic determinism, meaning that all things are determined by events that occurred in the past. Our lives are altered by our interactions with various people, places and events. There are obviously an infinite number of examples how the existence of one element might change many lives. In this case we come to appreciate how this one bookstore and many of the people who came through its doors were altered and determined.
While I did enjoy this novel I also felt that I missed a good deal of appreciating the depth of it because there were many references to books that I have not read. In fact, each chapter started off with a reference to a classic story, which I am sure added to the enjoyment by those who read and remembered that book.
Finally, this novel also provided a reminder of how modern technology may be changing the bookstores of the world forever. At one point in the novel, A.J.'s mother appeared with gifts for adults and the child which consisted of E-readers. A.J. understandably didn't like the idea of such a gift. We read this novel on an E-reader and we are little sad to say that we don't know if we will find a reason to set foot in a bookstore again. Unlike the situation in this novel where book clubs were held in the bookstore, our own book club takes place in our members' homes. This novel may very well end up belonging to the category of historical novels.
To purchase a copy of this book on Amazon, please click here
Category: FG - Fiction General | Tags: books, bookstore, e- Readers, Gabrielle Zevin, The Storied Life of A.J. Fikry Comment »