September 4th, 2009 — 5:53am
The Guernsey Literary and Potato Peel Pie Society
by Mary Ann Shaffer and Annie Barrows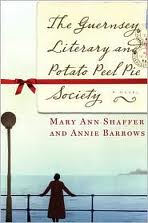 I found this a delightful book which told about a place I never knew existed and presented another refreshing story of the courage that people have shown during occupation by the Nazis during World War II. The book also captured how the love of books and reading can sustain people .There is wonderful character development including insight into romance and love. The unique use of letters written by the various people in the book to tell the entire story, allows time to flow quickly and works extremely well.
The setting is shortly after World War II, British writer Juliet Ashton receives a letter from a person who lives on Guernesy which is in the English Channel and had been occupied by the Germans during the war. Through a continued series of letters she learns about the Guernesy Literary and Potato Peel Pie Society and the various people connected to it. She finds out about Elizabeth the main creative force behind this group who during the occupation had a love affair with a caring German Captain and was willing to risk her life to help others .Juliet eventually has a prolonged visit to Guernsey and we are drawn further into the story by reading her correspondence which includes her editor and others whom she is close to back on the mainland. There are interesting twists and turns which involve a small child, a concentration camp survivor, hidden romantic feelings ultimately expressed and some previously unknown and now valuable letters from Oscar Wilde which had been written to the grandmother of one of the people on the island when she was a small child.
This novel stands on it's own as a most enjoyable work of fiction which shows how the best in people can come out in the worst of times.
However as I read it, I found myself wondering if I would have experienced the book any differently had I been aware to what degree there was truth to the real story behind Guernsey Island. Suppose Guernsey Island didn't really exist. OK then perhaps it is just a metaphor for the bravery of the British people during WWII. What about if in fact it was really known that most of the people on Guernsey island were collaborators? Was this story really based on people who bravely lived on this island? Was courageous Elizabeth who is the central character of this book based on a real person or an amalgam of some such people? Does it make any difference at all? Would it matter at all, if the Diary of Ann Frank instead of being a true story was just a novel purely of someone's imagination?
In the acknowledgement, Afterword and in some published interviews with Annie Barrows co-author who finished the book after her aunt Mary Ann Shaffer died in 2008 during the final rewrite we learn a little about the origins of their creative effort.
Ms Shaffer had briefly visited Guernsey and was delayed in the airport. During that time she read and collected numerous books from the airport store. We also learn that she was a great story teller and we see she was a very fine writer. I was still curious as to how much was her own imagination and how much was founded on the real people who lived through that time. I had a brief correspondence with the Ms. Annie Barrows. She was kind enough to write to me after being forwarded a note that I wrote to Ms Mulligan who had published an interview with her and offered to tell the true story of the Wilde letters if she was asked.
Dear Mr. Blumenfield,

Ane Mulligan passed your email along to me. The characters we placed on Guernsey are fictional, which means they are composites of people we have known, heard of, or imagined. Elizabeth is not based on anyone on the island. Mary Ann was deeply interested in the Resistance fighters of WWII, in particular a Danish boy named Kim Malthe-Brun, so Elizabeth has some attributes of his, but much of her is imagined.

There are stories of heroic defiance on Guernsey, as well as of daring escapes and infiltrations. I got a lot of information from a book called Islands in Danger, by Alan Wood, which was published in 1955. Mary Ann was partial to a book called Liberation by Nick Machon. There is an Occupation Museum on Guernsey as well as numerous websites about the Occupation, if you'd like to find out more in a non-fictional vein.

Sorry about the Oscar Wilde letters–it's an utterly fictional episode. Mary Ann adored Oscar Wilde.

Best,
Annie
I appreciate my curiosity being satisfied. Perhaps my continued reflection on this book is a tad more enjoyable knowing for sure that there were real heroes on this real island. I may even check out the author's favorite sources and who knows perhaps we will get a chance to stop over during some future trip to Europe.