July 25th, 2010 — 2:31am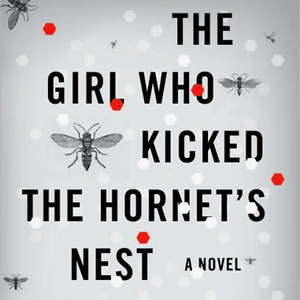 The Girl Who Kicked the Hornet's Nest
is the third of a trilogy of books written by Mr. Larsson and in my opinion the best of the trio. It is a continuation of the first two books, The Girl with the Dragon Tattoo
and The Girl Who Played with Fire
. You will best appreciate it if you have read the others and be familiar with the main characters and the ongoing storyline.  However, this last book is the one to read if you only reading one, as there is an attempt to summarize some of the previous plots but this will not capture all the intrigue of the earlier books. In the third book there are some new nefarious villains and lots of police types, some good and some not so good. There is a complicated plot, several murders and a great courtroom scene. The reader learns about Sapo, a secret law enforcement agency and an ultra secret component of that agency, as well as a special government agency mandated to prosecute threats to the Swedish constitution. It all seems unfamiliar but ultimately understandable as the plot unfolds. It might be the same if a non-American reader were reading a novel with a convoluted plot, which involved the FBI, secret components within the CIA and actions by the Attorney General of the United States. We would understand the organizations, might believe that they could do secret horrific things depicted in the book but yet also realize that we are most probably dealing with the imagination of the author.
One of the main characters is Mikael Blomkvist a crusading journalist who was an editor and one of the founders of the magazine Millennium with whom the author perhaps identified. An Internet search about real life author Stieg Larsson reveals that he was a journalist who founded the Swedish magazine Expo and was a life time opponent of fascists, neo Nazis and the extreme right wing in Sweden. He gave lectures about right wing extremists at Scotland Yard and lived under constant threat from right wing violence. When neo-Nazis murdered a labor-union leader in his home in 1999 in Sweden, the police discovered photos of and information about Larsson and his lifetime companion Eva Garbrielson in the murderer's apartment. It was reported that the reason Larsson and Garbrielson never married or registered as a domestic couple was because they would have to officially report their address and might be endangered by doing so Larsson also wrote a book for the Swedish Union of Journalists of instructions on how journalists should respond to threats. It is easy to see that many of the experiences Mikael Blomkvist in Larsson's novel could have come from the author's experience or concern's about what could really happen to a crusading journalist.  Another reason I suspect Larsson identified with his character of Blomkvist and might have wanted to be like him, because he is depicted as a very smart cool guy with the highest journalist ethics. Also, quite a few of the women characters in this book and the previous two were very attracted to him and ended up in bed with him.
While not the  main focus of the book, there are clear themes of sexual freedom  and feminism  which reflect the more openness in Sweden in dealing with all  aspects of these issues. Berger an important woman editor in the book is very comfortable having a sexual relationship with Blomkvist although she is happily married with a very good sexual relationship with her husband who accepts her attraction and frequent beddings with her fellow journalist. A "muscular" but very attractive policewoman is an important lover of Blomkvist. There are descriptions of people comfortably in lesbian, gay and threesome relationships, which come up as side issues although not driving the story. Trafficking in young girls was an important part of the plot of the second book and derivatives of this situation continue into the final book of the trilogy. The "Girl" is Lisabeth, is a thin small boned young women, who has been sexually abused, is bisexual but yet constantly overcomes powerful men by her brain and her physical prowess. This is a young woman triumphing over her own abuse, which is a victory for herself, all women and obviously for a better society.
Whether it is the characters themselves, the enormity of the plot or the complicated mysteries that need to be solved by the police and the journalists, Stieg Larsson has captured the imagination of more than 20 million readers in 41 countries. In 2008 he was the second best selling author in the world. His untimely death by a heart attack in 2004 at the age of 50, before any of his novels were published, robbed the world of a talented author. Although he may further live on through his work, as I understand that there were some unpublished, unfinished manuscripts in his computer when he died, which might have the making of at least one novel and maybe more.