April 3rd, 2015 — 8:12pm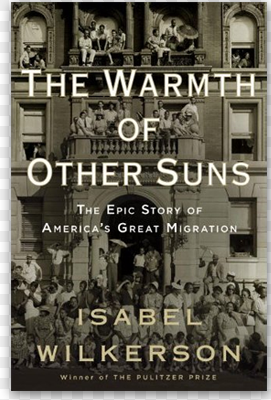 The Warmth of Other Suns: The Epic Story of America's Great Migration
by Isabel Wilkerson
About 50 years after President Lincoln signed the Emancipation Proclamation eliminating slavery in the United States, there began the Great Migration. Almost one by one "colored" people in the South would realize that they were not much better off than they were before the civil war. (I have to explain that I am comfortable using the word "colored" since I feel that it has a derogatory connotation. However, the word was used throughout most of the book since it was an acceptable descriptive word in the literature and speech during the time being described.) There were still lynchings and other types of murders of colored people in the South. This took place for no reason or for unproven accusations or insignificant acts such as a colored man talking to a white woman. The victims of this death and destruction also included children. Colored people could not sit with white people in movie theaters, restaurants, etc., and had to step into the street if confronted with a white person walking towards them on the sidewalk. These kind of situations persisted in the South into the 1960s. Even after President Lyndon Johnson signed the Civil Rights Legislation in 1964, it took another 10 years, and the effects of the work of Martin Luther King and others to make the worst of this discrimination to be a fading but still not eliminated shame of our country. Many of my generation of white people raised in the North supported the civil rights movement and some were quite active in it, but I would say that most could not fully understand what it was like to grow up in the Jim Crow South.
This is the power and strength of this book. Isabel Wilkerson, while a first time author, had already won a Pulitzer Prize for her newspaper work in Chicago when she approached this subject, not only as a black woman who knew her own family history, but as a journalist who found personal stories which she would present in great depth. She spent about 15 years researching and writing this book. She interviewed about 1,200 people who participated in the Great Migration from the South to the North. It was estimated that 4 Million "colored" people ultimately migrated between World War I into the 1970s. Wilkerson not only explained and analyzed the underlying factors in great detail, but by choosing three people to highlight, she brought a living vibrant understanding to this story that is unforgettable. Ida Mae Gladney, Robert Pershing Foster, and George Swanson Starling are the names of the people that we get to follow. She got to know them in the twilight of their lives over several years and spent many hours with each of them. The result is really three separate stories, each of which could have been a fascinating novel. We get to intimately know each of them as well as their families and friends. We appreciate what it was like growing up in the South; their hopes and aspirations, and sometimes the severe limitations that were put on them. We see how these three people made their decisions to go to Chicago, Los Angeles, and New York. We come to understand what happened to them and their families and as well as the next generation. Segments of their lives developed before our eyes in alternative chapters as we follow them into maturity and old age.
This book doesn't end with the exodus from the South. There is an entire new complicated and painful realization that the reader has to face about the rest of the story. Employment and housing discrimination persisted in many places in the North, and unlike the European migrants who entered the big cities seeking a better life for themselves and their children, there were persistent obstacles for the people of the Great Migration and their children. Drugs, gangs and obstacles towards a good education for their children were constant issues.
Ms. Wilkerson has been recognized with the National Book Award as well as many other prestigious honors for this book. . It was also chosen as one of the 10 best books by the New York Times Book Review Section. This book should be mandatory reading for every American high school student. I found it painful but I'm glad that any repression that I may have had about this subject was reawakened.