April 28th, 2020 — 10:05pm
American Dirt by Jeanine Cummins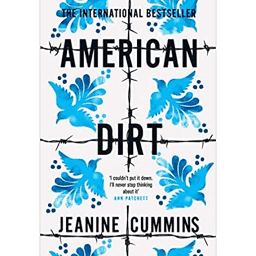 This is clearly a page turner (a swiper for laptop and Kindle users) and a definite fascinating read. It will provide a sensitive in depth insight into the plight of immigrants striving to make it from Mexico as well as from Central and South America to the United States. The book depicts the deadly role of the cartel (gangs) and their cruel leaders along with their ruthless followers. You come to understand that if you resist the will of the leader, let alone publicly speak out against them, the result can be death to you and your family including children and relatives.
The main characters of the book are Lydia and her 8-year-old son Luca who experienced such a punishment to their entire family because of an anonymous newspaper article written by Lydia's husband who was a journalist and wrote about a cartel leader. This sets off a journey to the north by the surviving mother and son to escape to the United States.
The reader feels the constant fears and dangers of the fleeing duo and the people who they meet along the way. Whether it is jumping on moving trains, unbearable thirst, fear of drug dealers, fear of the immigration police, or fears of being attacked by the people they meet along the way, it all comes across as a real and quite frightening.
The author has done her homework and appears to have recreated a slice of contemporary history that is not well known. I was not surprised to see that this book has been a great seller and received many positive reviews including one by the author Stephen King and in fact the book was one of Oprah's book picks. Anticipating e success, from the very beginning was the fact that the author received a seven-figure advance for her manuscript. However, I was very surprised and interested to see that the book also received many negative reviews including disparaging attacks on the author by people who felt that as a white non-Hispanic she had no right to pen this book. Several Latino writers wrote that the novel was stereotyping and exploiting the suffering Mexican immigrants. Apparently, some book stores decided to cancel the author's book tour because of fear of disruption.
I personally believe that the book can stand on its own. It seemed to me, that the main protagonists were good people whom I respected and would be very proud if they were my ancestors. I believe that even most of those who did not like the fact that the author wrote the book agreed that it was fascinating, suspenseful and a great read.