Search results for 'Book thief'
September 4th, 2009 — 05:50 am
The Book Thief
by Markus Zusak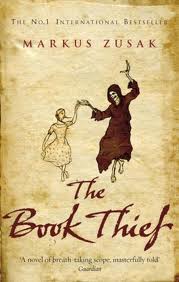 My initial experience with the book was somewhat negative. First, finding the book in the teen department of Barnes & Noble seemed somewhat curious. I had difficulty getting in to the book as the style and narrative seemed unusual and in retrospect perhaps uncomfortable as it seemed to be written from the point of view of an angel of death. Perhaps after about 50 pages I was comfortable with the book and was being drawn in to it although I could still easily put it down.
I also felt an early identification of Liesel with my seven year old granddaughter who has recently fell in love with words and books. This connection began to give me an added emotional attachment to the characters and the story which I usually have anyway to a holocaust book. I felt the author was making a meaningful insight to me as he spoke about Kristolnacht and clearly conveyed how the Nazis were bent on destroying words and the ideas behind them perhaps just as much as they were displacing their frustrations and hate on the Jews. As the book progressed – it became a page turner for me. The author used an interesting style of foreshadowing the events coming in each chapter which toyed with my anxiety and concern about the characters but yet I couldn't be sure what was going to happen. I began to realize that I was developing great empathy and caring for the characters who were German non-Jews. I desperately wanted the characters who went off to fight the allies to survive. When the Jews were marched through the streets on their way Dachau Concentration Camp – I was accepting the idea that most of the observers were neutral and of course the main characters were heroic in wanting to give them bread.
By the conclusion of the story I of course was fully on board with the idea that all war is terrible and I felt very badly that most of the characters had been killed. I was touched that Liesel and Max had survived and were together. But what did they do with their life and did they feel guilty about what had been done to the Jews? The author who obviously was not Jewish said that he wrote the story based on memories of stories that his parents have told him from Austria and Germany and he wanted to show that not all Germans were bad. I found this quote from him on the Internet:
One day, there was a terrible noise coming from the main street of town, and when she( his mother) ran to see it, she saw that Jewish people were being marched to Dachau, the concentration camp. At the back of the line, there was an old man, totally emaciated, who couldn't keep up. When a teenage boy saw this, he ran inside and brought the man a piece of bread. The man fell to his knees and kissed the boy's ankles and thanked him…Soon, a soldier noticed and walked over. He tore the bread from the man's hands and whipped him for taking it. Then he chased the boy and whipped him for giving him the bread in the first place. In one moment, there was great kindness and great cruelty, and I saw it as the perfect story of how humans are.
Therefore I reflect that at best this 30 year old author is an apologist for the Germans of the Nazi era and at worst has little appreciation for what really happened in the holocaust. Therefore I find myself negatively inclined toward him and what he had to say. He is a talented writer and wrote a great book . I am glad I read it but I wouldn't recommend it to everyone and I am not sure to whom I would urge that they should read it. I recognize that this is a very personal reaction but it is the way I find myself feeling at this time.
February 25th, 2015 — 02:40 pm
'All the Light We Cannot See' by Anthony Doerr.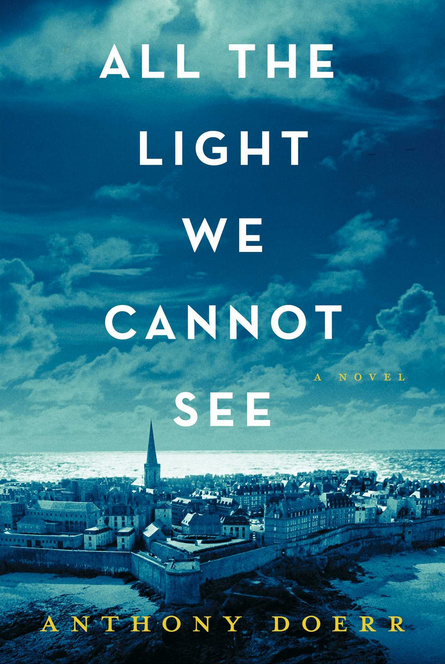 Why does a man who was born more than 30 years after the start of World War II decide to write about the lives of a young blind girl and a German youth during this period of time where their lives ultimately intersect?And why do I, who was born just before the start of this war, find myself still seeking out books about this period of time? This is a question I cannot answer, but I do have a recommendation for the readers of this blog, which I will share at the conclusion of this review.
Marie-Laure was born in Paris and became blind at the age of six. She was the daughter of a widowed locksmith of the Natural Museum of Paris. She was very close to her father, who when war broke out fled with her to the seaside town of Saint-Malo. They lived with her great-uncle who had been traumatized by World War I and was afraid to go out in the street. She was left living with him when her father did not return from a trip to Paris.The great-uncle had a radio in his attic, to which they could listen, as well as transmit. Werner Pfennig was a German orphan who grew up in a children's home in Berlin. He developed a fascination with and the knowledge about radio circuits, which was the skill that ultimately became his work in the Nazi Army.  There are many sub-themes in this developing story, which include the tale of a valuable blue diamond, which people believed gave special powers to those who possessed it. There also was a description of the ruthless training of the German youths and of the bravery of some of the French citizens that occurred during wartime.
Each chapter ultimately alternated between the lives of the blind French girl and the young German lad, as well as a few other people. It should not be surprising to learn that this book is very well-written and well-received. It received a National Book Award and was on the 'New York Times' bestseller list for 38 weeks. By examining the microcosm of these two persons' lives the reader gets a feeling of the humanity, or the lack of it, of some of the people who lived and died during this horrendous recent history. As well-written as this book may be, it is really still a figment of the imagination of the talented Mr. Doerr. It is a fine piece of literature that could round out a reading list for the contemporary reader. However, if you are a young person wishing to be educated on this dark period of 20th Century history or even an older person who has not previously explored this era, this book may not be the place to start. I would suggest two other books; one a classic and the other one probably read by very few people. If you have not read it, I suggest that you read 'The Diary of a Young Girl' by Anne Frank, which is the memoir of a young girl in Holland during the Nazi occupation. This perhaps is the most well-known and well-received book about this period of time. The other book that I would suggest is 'How We Survived – 52 Personal Stories by Child Survivors of the Holocaust' (See my review of this book). This is a vivid, valid and authentic group of short vignettes that will hold your attention and tell a story as informative and moving as the fine novel which I just reviewed.There are also some other recent novels about the Holocaust that I would bring to your attention: 'Once We Were Brothers' by Ronald Balson, 'My Sister's Keeper' by Jodi Picoult and 'The Book Thief' by Markus Zusak.( see my reviews of these books) This is obviously a topic that can be explored with many fine pieces of literature, and this book by Mr. Doerr is a very good addition to this library of books.