August 19th, 2014 — 11:52am
The Invention of Wings by Sue Monk Kidd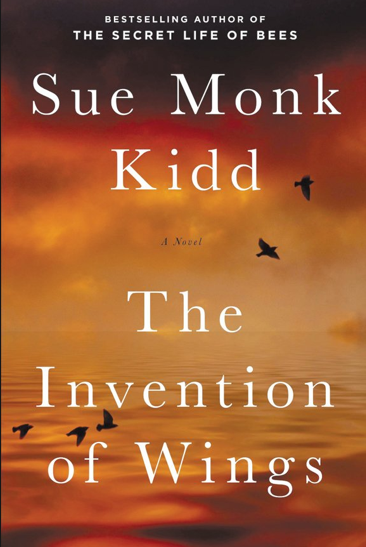 It is less than 200 years ago that slavery was a fixture in this country. As part of the curriculum in American schools we learn about this horrific treatment of human beings in the South and how the North tolerated this institution until the Emancipation Proclamation and ultimately the Civil War. However, I wonder if each succeeding generation of Americans really understands and appreciates what it was like to be enslaved in America and how this was accepted as part of everyday life by so many of the white people? When the award winning movie Twelve Years a Slave was released, there were some people who were disturbed by it because they felt it was too "painful to watch." We are fortunate that there are filmmakers and in this case an author who can find a creative approach, to not only tell the story of slavery in the United States, but to do it a way that we not only understand what went on but that we can also have some idea of how the victims of slavery felt. I will say that this empathic experience for the most part extends to the oppressed rather than to understand the mindset of so many people who accepted this institution without question.
In this book we mostly follow two women for most of their lives. One is Sarah Grimke, born into a wealthy Charleston family at the beginning of the 19th century. Her father was a prominent judge, her mother was a socialite, her brothers were destined to be prominent lawyers and she and her sisters were expected to follow in her mother's footsteps. Slavery was a way of life and there were 15- or so "Negroes" living in their house, each of whom had various duties. When there were children of the slaves, they would be brought up to follow in their parent's footsteps. In fact, one such young girl was Hetty Handful who was presented to Sarah as a present for her 11th birthday to be her personal "slave." Sarah rejects this plan, as much as a girl her age can reject the rules and the plan of the family. She secretly begins to teach Hetty to read which is forbidden. We meet Sarah's father, the patriarch of the family and we see his acceptance of slavery with barely a reservation as well as his clear ideas about the limited role of women. We meet Charlotte, Hetty's mom and a most skillful seamstress but a woman who knows where she came from and what she will never accept.
The reader becomes a fly on the wall in this household for the next several years as these girls grow up. We come to know the other members of this household, both slave and non-slave. We learn about the courting tradition, as Sarah and her sisters are formally allowed meet men at the proper time. The reader is introduced to how the slaves are punished when they make mistakes which can be a whipping or even worse (and the latter is described in vivid detail). Sarah develops a very close relationship with one of her younger sisters Nina, as at her own requests she is granted the role of godmother to her. Not surprising, their social values are quite similar and we are able to follow their fascinating paths, as both become prominent abolitionists. As in any good novel there are various sub stories. While the chapters alternate between " Sarah " and " Hetty," the fate of Charlotte, Hetty's mother and Nina, Sarah's special sister, inform the latter part of the book. As the story progresses, it also becomes clear that this not only a story about slavery in the United States but it is also about the beginning of the fight of woman to achieve equality in this country.
In fact, I don't believe that it will spoil your enjoyment of this compelling novel, if I reveal what the author has put in a note at the conclusion of the book. That is that Sarah Grimke and her sister Nina Grimke were real people. They both became prominent abolitionists as well as advocates for women's rights despite some concerns by supporters who believed that such rallying might dilute the difficult fight against slavery. While the dialogue, many subplots and storylines were the author's imagination, other events and even some quotes were taken from some writings, biographies and historical reports which therefore confirms the feel of this story, which is one of authenticity. It is a book that captivates and holds you until the last line!