August 14th, 2014 — 5:28pm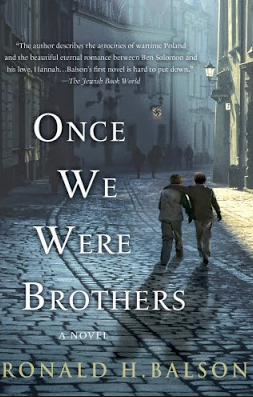 Once We Were Brothers. – By Ronald H. Balson- I am always interested in another Holocaust novel. Perhaps I don't want to forget (how could one forget?). Or perhaps it is the trying to figure out how would I have handled these horrible situations had I been born a few generations earlier where some of my ancestors had lived and died. It helps that the author in this case; Ronald Balson has a fresh perspective. He introduces us to situation where Ben Solomon, an elderly Holocaust survivor confronts Elliot Rosenzweig, a very wealthy   Chicago philanthropist, of actually being Otto Piatek, a prominent Nazi who executed many Jews in Poland during WW II. On top of this he tells a story how Otto as a young boy had been taken into his household before the war after his own parents abandoned him. When the Nazi's came to power his parents returned to take the 18 year old back to Germany where he became a high-ranking Nazi who was soon to be assigned to Poland. The now wealthy Chicago man denies this accusation and the plot unfolds as Ben relates his story to Catherine who he hopes will be his attorney in what he wants to be a public lawsuit to expose this man for stealing his and other family's money and jewels as well as participating in the murder of so many Jews. Ben painfully reveals his memory of the events of his childhood growing up with this man and the hope that Ben's parents had that the child they had taken in would help them from his new position. Using this vehicle, the  horrific details of the plight of the Jews in Poland are related. So many historical details were worked into the story that I had the impression that this first time author had on his writing desk a history book of all the events that happened in Poland at that time There were twists and turns but there were all familiar situations: the gradual tightening of the noose around the neck of the Jews as they were moved into the Ghetto and eventually were taken to concentrations camps. There was the good Priest hiding some Jews and the underground resistance doing it's thing and of course the horrendous course of events for so many Jews. It was also a personal story of certain people who we came to know and care about as events transpired during the war and now in modern times as the possibility of a legal trial became a reality.
Although I have experienced many other books and movies about the Holocaust, I was still engrossed and moved by this book. It was not one of the best of the lot on this subject but if you are drawn to this subject you will not be disappointed.