December 18th, 2015 — 9:48pm
Moving On – A Life by Oliver Sacks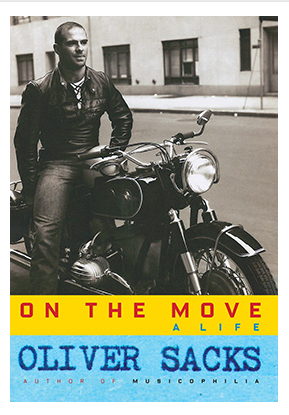 I never read any of his books other than this biography. I read about many of them. I don't recall hearing him speak in person although I believe I attended one of his lectures at the American Psychiatric Association meeting. I was familiar with many of the places that he spoke about in New York, San Francisco and Los Angeles and I even had some friends and colleagues who knew his analyst, David Shengold. Although I was never anywhere near being in his league as a clinician, writer and brilliant mind, his areas of interest had always fascinated me. So I guess you can say in reading this book, I had a certain amount of kinship and empathy for him although in many ways he was miles apart from my world.
He was born in England to a Jewish family. Two of his cousins were Al Capp, the famous cartoonist and Abba Eden, a famed Israeli Prime Minister. One of his brothers was schizophrenic and we can't help wondering if his desire to crack the code on the workings of the brain may have had its origin with that experience. Both his parents were physicians and he has early memories of hearing them discuss interesting cases. His father thought it was a shame when a case  was written up in the popular press but his mother was a great storyteller. No doubt it was at his parent's knee that he became fascinated by case histories.
The reader of this book will benefit by his ability to tell good stories. At times he jumps around and he may lose you with the exact time sequence but that will be a small price to pay for an interesting story of a brilliant man who led his life, well lived, his way.
It was his misfortune to be born gay at a time when it was considered to be a choice, rather than an inborn destiny that we know it is today. It is sad to hear that after he had his first sexual experience, he had none for the next 35 years. It was heartwarming to see that he fell in love and was able to live a happy intimate life with a man in the twilight of his life.
In a small way, I could relate to his early fascination with the working of the brain and the scientific advances that were occurring, as he was completing medical school and making the decision to become a neurologist. This was approximately the time that I was in college in the late 1950s. I had participated in a special project where we implanted electrodes into the brain of a cat, in which we could then record after the cat had recovered from surgery and resumed it's relatively normal life. There were situations where we could tell in advance when the cat was going to make a decision, based on the brain waves before the cat made them. It was very tempting for me because of this experience to want to choose a career in neurology but for me, clinical psychiatry beckoned and that became the direction that I took. We are all fortunate that Dr. Sacks followed his interest in the workings of the brain.
When Dr. Sacks came to the United States, he was in his '20s and his first stop was San Francisco where he became an intern at Mount Zion Hospital. Not only was this young doctor quite fearless on his motorcycle but he was also fearless in his self-experimentation with LSD, PCP, later known as Angel Dust and who knows what else. I am sure his experience with mind altering drugs at this time paved the way to his lifelong study of the brain and the workings of the mind.
He dropped a tidbit taking place during this time period about how he got out of the draft. I know firsthand that young doctors were subject to being drafted into the military during both the Korean War and the Vietnam War. It was in 1968 that he said that he persuaded the draft board that he was not suitable material for the draft. I wonder what this was all about.
As someone who has worked in academia, I was particularly interested in what he had to say about one of his first jobs working in a clinical research lab. He reports that on his own, he made observations that he felt merited a write-up for a journal. When he wrote his first paper and it was accepted for publication, his boss was furious and fired him and then according to Dr. Sacks used some of his data which the boss claimed was his own for another publication. I have seen similar situations where there is conflict between the young person and the father figure. I can't help wondering what would have happened if Sacks had tried to collaborate with his boss. In later years, he described getting along well with his colleagues and sharing data and theories but on the other hand, there seems to be a certain lone wolf quality and approach to his ultimate final products. I really can't say if he was generous in allowing co-authorships with younger colleagues when he was the famous established author.
His life in Southern California was particularly fun to read about, since he had a house in Topanga Canyon, which is near the area where I now live. He reports zooming around on his motorcycle and it was obviously quite different than it is now, trying to get around on the busy freeway. He reports that he became the doctor of sorts to the Hells Angels, as well as being a Venice Beach bodybuilder.
He really seemed to come into his own once he came to New York. One might have expected him to join the full time faculty at one of the many outstanding medical schools. Instead, he decided to become the peripatetic neurologist by being a consultant to the Beth Abraham Nursing Home , the Little Sisters Nursing Home, both known as " Manors," among other places. It was here that he made his groundbreaking observation on post encephalitic patients who received L-DOPA and have their "Awakenings," often temporary but revealing great insight into the workings of the brain.
His book, by the same name became a New York Times bestseller for 26 weeks and was made into a screenplay by Harold Pinter and into a great movie in which he was played by Robin Williams. This was followed by a number of other world famous books such as The Man Who Mistook His Wife For His Hat, Hallucinations and many others
In his heart and soul, it was clear that he was a storyteller. His understanding of neurology allowed him to listen and observe his patients and make insights that were not only fascinating but were important scientific advances for his time. He was also able to educate the public with his ability to write and make his case histories come alive as real people with unusual problems. He was unbelievably prolific and accumulated thousands of diaries filled with observations of his patients and of the people that he met and interacted with. He became friends and corresponded with some of the great minds of his time, such as Francis Crick (of  the DNA guys Watson and Crick) and Stephen Jay Gould as well as Gerry Edelman, author of the groundbreaking book, Neural Darwinism which Sacks explains in great detail in the biography.
Although I don't think he mentioned it his book, I read elsewhere and that some of the subjects of his writings didn't like that they were described in a manner in which t they could be recognized. Perhaps he didn't get what we now call "informed consent." He obviously wrote because of his love of the subjects he wrote about as well as because of the love that he had for these people whom he got to know.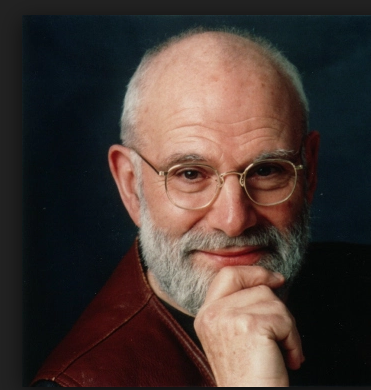 One of the most important subjects of his writings that he definitely had permission to write about was himself. When he severely injured his leg, he was able to write a book titled A Leg to Stand On. In his waning years, he developed a melanoma in his retina. This stimulated him to enlarge upon his earlier observations about vision and consciousness. No doubt , he developed a personal attachment to the people he wrote about but he seemed to be also writing for the personal gratification and acceptance of himself and his works. He related a situation where due to one of his books receiving bad reviews, he went through 3 months of being severely depressed .
Oliver Sacks certainly lived his life to the fullest, He received much recognition for his work. He was also recognized by the Queen of England and honored with the designation of Commander. Not only did he receive much satisfaction from his many accomplishments, but he was able to share so much of his thought process and insights with the people who read his papers and books. He passed away a few months ago (August 2015) but I'm sure that his stories and observations will live on for many generations.