February 22nd, 2012 — 3:50pm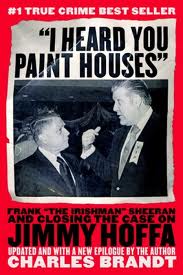 .
I Heard You Paint Houses: Frank" the Irishman"  Sheeran and Closing the Case on Jimmy Hoffa- by Charles Brandt (2005 edition)

When his friend and mafia boss Russell Bufalino introduced a young Frank Sheeran to Jimmy Hoffa, Hoffa's first words were, I heard you paint houses." These are code words for " I heard you do killings." Little did any of these men imagine that many years later the last person who Hoffa would ever speak to would be Sheernan who killed Hoffa at the bequest of Bufalino. Not only did Sheeran "paint houses" but when required he could also do his "own carpentry" which means he could get rid of the body.
This book is the story of Frank Sheeran as told to Charles Brandt , a former homicide investigator, prosecutor and Chief Deputy Attorney General of the State of Delaware who had prosecuted many homicides in his day. For nearly five years, Brandt gained the confidence of an older Sheernan who was in his twilight years and knew that he was dying. These interviews occurred over numerous visits, many were video or audio recorded. There also were a few trips that were taken by the author, some with Sheernan to locations where "things had happened." In the 2005 edition of this book there was an epilog with statements by some of the key players including Sheeran's daughter which gives further authenticity to some the amazing stories in this book.
Sheeran grew up with a tough father in a tough Irish neighborhood. He relates an incident where he knocked out his school principal, breaking his jaw, after he  was pushed around by him. He served overseas in  Europe during World War II. He became a "sniper" which entailed killing lots of enemy troops. He also related that it was not an uncommon practice to kill prisoners of war in cold blood when it was not convenient to them bring them back for detention. He became a family man after the war, getting married and having children. He worked as a truck driver among other jobs and became involved in the union movement. The reader learns how it was quite common for him and his co-workers to steal merchandise that they were transporting and then sell it to increase their earnings. Such activities are presented as " just making a living".
Sheeran has a chance meeting with Russell Bufalino who turns out to be one of higher up Mafia bosses. Despite not being Italian he gains the trust of his new friend and meets many other mob connected people.  When a reliable person is needed to "paint a house" Sheeran is someone who would handle the job. There were at least 20-30 such jobs including the famous hit of Joey Gallo and of course Jimmy Hoffa . The reason for the Hoffa hit, the consequences to Sheeran if he didn't do it to one of his best friends, the details of it,  and his subsequent feelings about it are all described in great detail.
While not described in as much detail, there is also information about another well known hit and that is the "whacking of JFK."  It is suggested that the mob needed to take some of the power away from Bobby Kennedy who as Attorney General under his brother was after the mob. Sheeran describes how he delivered the high powered rifles that were to be used for this shooting. As is often the case, the unsuspecting triggerman  is killed after a big time hit. Jack Ruby is described as a well known member of the mob who was suppose to arrange for Lee Harvey Oswald to be eliminated after he killed Kennedy. When those plans were botched, Ruby had to do it himself.
In the end so many of the perpetrators of the big time mob activities described in this book ended up in federal prison. Some were turned against each other to get time off so they wouldn't die in prison.  Sheeran served his time and apparently never turned into " a rat" …except in this book in a more less final confession before he died.
This book feels like a genuine window into the under belly of this world of crime and killings. If most of the participants were not already gone, you might  almost feel that your life was in danger after reading this book for knowing all this information.
Postscript: There is a rumor that Robert DiNero is on board for playing the Irishman  for a film project that will make of movie of this book with Martin Scorsese directing  and also  starring Joe Pesci and Al Pacino.