May 1st, 2015 — 5:23pm
THE BOYS IN THE BOAT by Daniel James Brown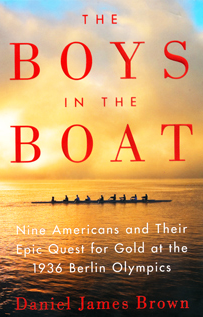 Daniel James Brown is an author who describes himself as someone who writes narrative non-fiction which brings compelling historical events to life. That is exactly what he does in The Boys in the Boat. To most contemporary Americans, competitive rowing is not high on the list of sporting events to follow. Even if you have heard about the 1936 Berlin Olympics, you might only think of Jessie Owens, the black track star , who won a gold medal in the face of Hitler proclaiming his master race ideas. However, there is another story that you should know about those Olympic games .
This book tells the story of nine young men from the University of Washington who had an amazing journey that also took them to the 1936 Berlin Olympics to win a gold medal. It is about much more than their Olympic triumph. It is about what they needed to overcome and how they learned to work together in a manner which transcended the teamwork required for other sports. These young men came from farms, logging towns, and other difficult backgrounds. They struggled to get to the University of Washington and then to earn a spot on the rowing team. It is also a story about their coach, Al Ulbrickson and how he coached them and treated them as individuals and as a team. It is also about George Pocock, a boat-builder who not only built the rowing shell for the University of Washington team but also for most collegiate teams throughout the country. Pocock grew up in England and intimately understood rowing from his experience with the boats on the famous Thames River. It was his wisdom and support which sustained the University of Washington team almost as much as their esteemed coach.
Mr. Brown, the author, became interested in this subject when he had a discussion with a neighbor who was the daughter of one of these rowers. He ultimately met her father, Joe Rantz, a few years before he died. He heard this story firsthand and was able to review various documents and diaries not only of this man but of the other members of the rowing team as he was introduced to their families. The result is a book which reads like a page turning novel with events and insights into the people about whom the book was based.
There is a parallel story, which the author chooses to chronicle and which adds to the significance of the triumph of the University of Washington team at the 1936 Olympics. That is the events going on in Germany as Adolf Hitler came to power and began to oppress and ultimately murder the German Jews and others. The temporary easing up by Hitler of his cold-blooded extermination plans in order to deceive the world at his showcase Olympics, was clearly spelled out in this book.
I found the author's discussion of the German filmmaker, Leni Riefenstahl, quite interesting and revealing. She was given carte blanche by Hitler to film the Olympics from every angle in order to showcase Hitler's Germany in a glorious positive image for the entire world. She worked extremely closely with Hitler and Goebbels (the Nazi Propaganda Minister) and may have been literally in bed with them. She filmed all the athletes from the best angles, sometimes from specially built trenches so she could show the marching Germans from an upward looking view. Interestingly enough, after the American team from the University of Washington won their gold medal (in a most exciting well-described come from behind victory), she was given permission to bring her cameras into the University of Washington's boat for a special ride with them. The results can be seen in a well-preserved video of a preliminary heat won by Germany and the final won by the US for the gold medal  (see YouTube video-English  version or German  narration version  ) where she intermixes cuts of long views of the race with close ups of the rowers. Riefenstahl subsequently tried to distance herself from her close association with Hitler after the war ( see interview with Riefenstabhl). No matter what her culpability in Hitler's propaganda show, the wonderful video of these nine men, whose self-determination, hard work, and comradeship, was very well done and will allow future generations to enjoy watching their accomplishment.
One reviewer in Publishers Weekly called this book a Nautical Chariots of Fire, which seems a very apt description. It is also rumored that the Weinstein Brothers have optioned this book for a movie which may be soon available as you read this review. I am sure it will be an exciting film but this book alone captures a vivid picture of the Boys In The Boat that you will not forget.
Comment » | HI - History, S- Sports, T - Recommended for Teenagers