September 18th, 2015 — 11:03pm
Ally: My Journey Across the American-Israeli Divide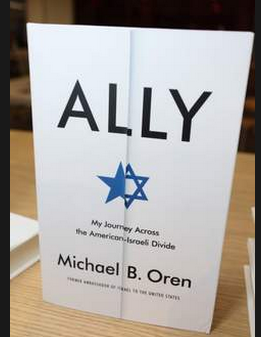 By: Michael B. Oren
The author is the former Ambassador from Israel to the United States who served 2009-2013 and currently is a member of the Knesset, the Israeli Parliament.
Oren's journey to this position as Israel's representative to the United States and the man who was one of the key advisers to Israel Prime Minister Benjamin Netanyahu began when he was growing up in a Jewish family in West Orange, New Jersey. He was bullied then as a child and experienced antisemitism at a young age. At the age of 15, in 1970, Oren visited Israel with a Zionist group where he met Yitzhak Rabin in an encounter which he describes as a life changing event.
He went on to complete college at Columbia and received a master's degree. He then immigrated to Israel in 1979. He came back to the United States to get a PhD at Princeton. He was married in 1982 to an American woman who also made Aliyah. They went on to have three children.
Oren's commitment to Israel was more than an intellectual and emotional one. He joined the IDF (Israeli Defense Force) and served as a paratrooper in the 1982 war and saw serious combat. He then worked with the underground in the Soviet Union and was arrested by the KGB. During the Persian Gulf War he was the Israeli liaison to the United States Sixth Fleet. In the 1980s and 1990s, he taught at Hebrew University in Jerusalem and at the university in Tel Aviv. He served in various positions in the Israeli government, and in 2006, was a visiting professor at Harvard and at Yale.
Oren has written numerous articles and a few important books including New York Times listed best selling books titled Faith and Fantasy, the history of America's involvement in the Middle East and Six Days of War, an historical account of the Six Day War. He also wrote two novels.
So in 2009, when Netanyahu, the Israeli Prime Minister appointmented Oren as Ambassador, he was already a seasoned government advisor as well as a respected historian. He considered himself a dual citizen of Israel and the United States. If fact, he described a very painful moment when he had to give up his US citizenship in order to become Israeli Ambassador to the United States. He vividly described his emotions seeing his passport voided.
Mr. Oren obviously must have kept a very complete diary as he goes on to document his life for the next four years in great detail. The reader has the feeling that the author is reliving the experience moment to moment, telephone call to cellphone call, car ride to plane ride, and so many very personal meetings. He essentially takes the reader up to the door of the Oval Office in the White House as he steps back to sit with the other most senior advisers as President Obama and Prime Minister Netanyahu hold their personal meetings. There are so many stories of this four-year period which essentially chronicles the delicate situation in the Middle East and the interaction between Israel and the United States.
I came away from this book feeling that Oren was a very loyal Israeli who still loves America. I thought that despite at times his critical view of some of the actions of the United States, he sincerely believed that his first country would always have Israel's back.
As Oren currently serves in the Knesset, it would not surprise me if he did not someday move up and become part of the top leadership in Israel. This could lead to another important book to allow historians and people like us to gain further insight into the relationship between these two great allies.
3 comments » | AM - Autobiography or Memoir, HI - History, P - Political