December 21st, 2012 — 12:57am
A Working Theory of Love by  Scott Hutchins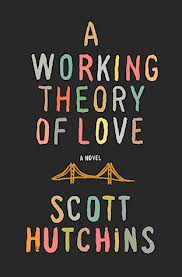 This first time novelist chose to bring his readers into the world of modern day computers where there is a race to make the first computer that can actually think like a human being. There is actually something called the Turing Test  named after one of the first computer geniuses Alan Turing, who was a British mathematician who broke the German Enigma Code during WW II. Turing  committed suicide after being prosecuted by the British government for being a homosexual. The Turing Test which is a key part of this novel is where a human being and computer are blindly  evaluated  by a human judge as to whether he/she believes they are human. If the responses of the computer are judged to be the human being more than 30% of the time, the computer is deemed to have achieved thinking like a human.
The voice of the book is Neill Bassett Jr., a man in his 30s who is hired to work for a start up company that is buiding such a machine which they hope will win the Turing Test competition. Bassett's main qualifications to be hired is that his father the late Dr. Neill Bassett kept an extensive dairy of  his personal thoughts for many years and that material is being fed into the computer to give it human experience. Dr. Bassett unfortunately ended his life by an unexpected suicide and one of the dilemmas that scientists building the computer face is whether to tell the computer about this event.
Obviously to  ultimately think like a human, there would have to be input about various human qualities including greed, jealousy and of course love. The people working on this project find materials to add this element to the computer program. This also includes understanding sexuality. The young Bassett who basically narrates this book goes into detail with his own struggles particularly about his short lived marriage, his sexual affairs and  a special relationship with a younger woman in her early 20s. During his work day part of his job is to have conversations with " his father " and he eventually tells Dr. Bassett (the computer) that he is his son. He also  invites his mother to his work place  one day  in order to have a conversation with her deceased husband.
It appeared to be the author's purpose to examine the meaning of love and relationships which is quite a task even for an experienced novelist let alone a first time author. I am not quite sure he achieved some great insights but  he chose a unique premise to try to do so.