August 24th, 2018 — 5:44pm
The Last Innocents – The Collision of the Turbulent Sixties and the Los Angeles Dodgers by Michael Leahy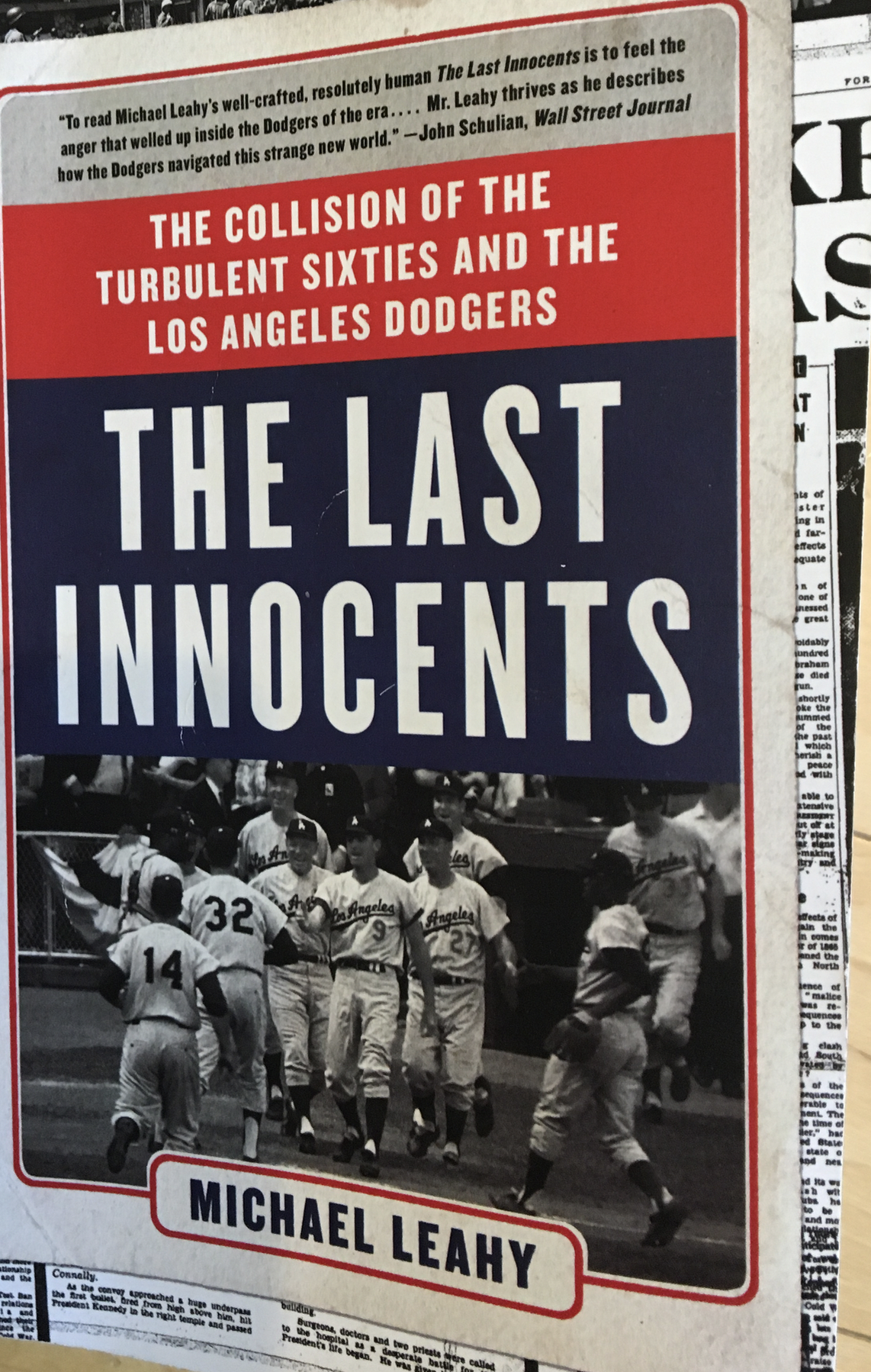 After recently reading Roger Kahn's book titled, "The Era 1947 – 1957", I was ready for another baseball experience. This book seems to pick up where the previous one left off, as the author follows the Dodgers' move from Brooklyn to Los Angeles and deals mostly with the decade of the 1960s. It is interesting to me that I also enjoyed this book immensely, even though I had stopped closely following baseball during this period since not only were the Dodgers no longer in Brooklyn, but I personally was totally absorbed in college, medical school and psychiatric training.
Perhaps the appeal of the book is that it is "inside baseball". The author describes the trials and tribulations of the personalities involved, but he also recounts the details of important games and even the individual at bats. He not only reports the various key baseball moments as they happened, but he subsequently has chatted with many of the key players 40 or 50 years later about various at bats or important plays in the field. Even if I were not following baseball closely during this decade, I was very familiar with certain heroes of the time and of prior years such as Sandy Koufax, who was one of my heroes as he started off and had a great career with the Brooklyn Dodgers before moving to Los Angeles.
The personalities of many players emerged in this book along with the indelible impression which they left on the game. For example, the author gets into the head of Maury Wills, the Dodgers' shortstop and fantastic base runner, as he traces his life and career in wonderful detail. As a psychiatrist, I could not help but enjoy learning about the personal life and baseball career of Wes Parker, who played first base for the Dodgers for eight years. The author told about Parker's family history coming from a rich family, his relationship with his parents, his insecurity despite his wonderful baseball career and the meaning that being a success in baseball had for him. He weaved Parker's history in and out of various chapters. He probably could have presented the full story of this man's life at a psychiatric meeting and received great acclaim.
The book not only told great baseball stories and let the reader relive key baseball moments mostly about the Dodgers, but it also brought memorable news events that were occurring in our country during this time period. This included the assassination of President John Kennedy, Martin Luther King and Robert Kennedy, the civil rights movement and the impact of the Vietnam War. I could not put this book down and it was a great reading experience.
Leave any comments below.
To purchase this book from Amazon, please click here