December 17th, 2017 — 11:51pm
Strangers In Their Own Land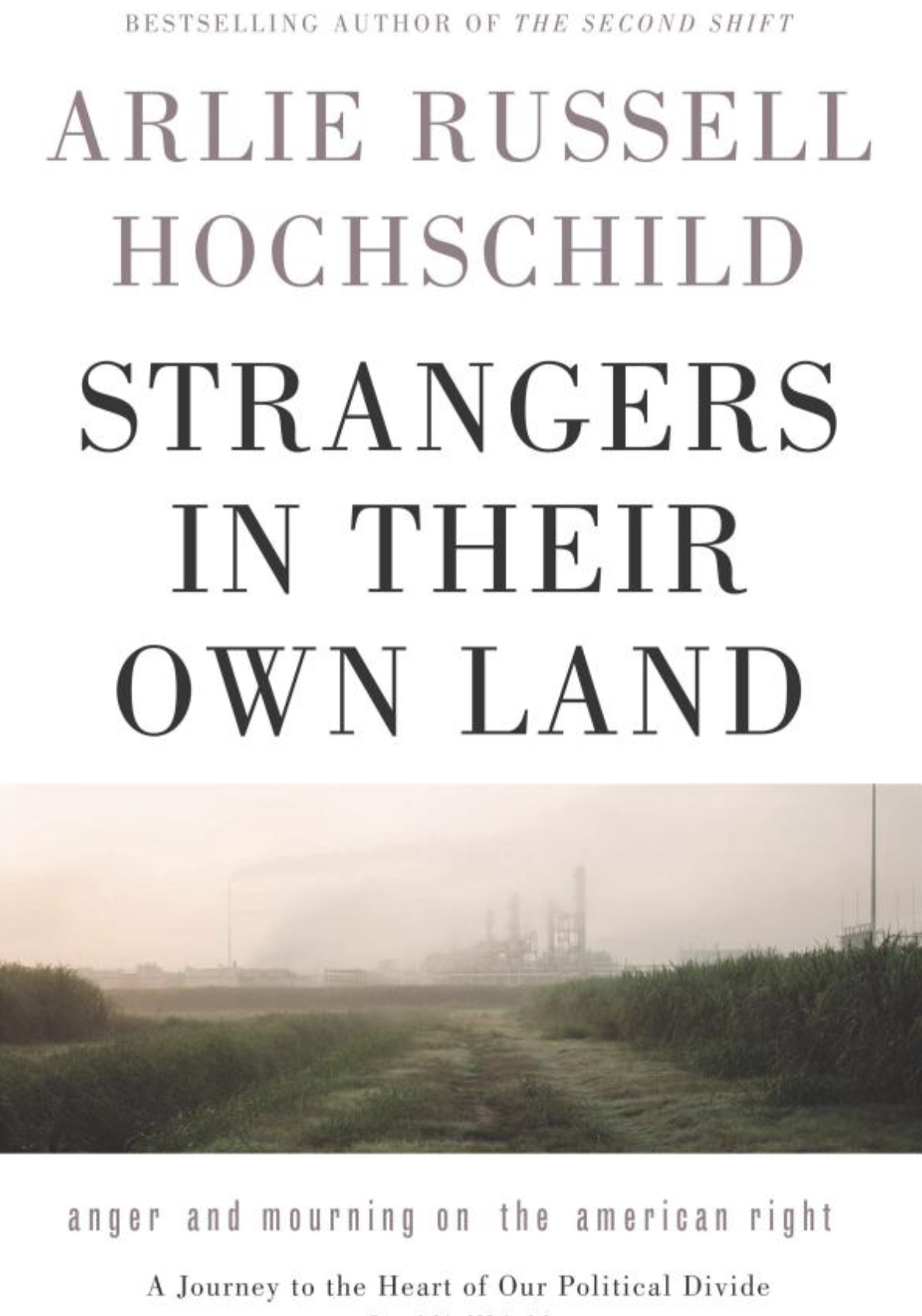 Anger And Mourning On The American Right. A Journey To The Heart Of Our Political Divide by Arlie Russell Hochschild.
The title and subtitles pretty much summarizes the heart of this book. It is the story of the journey of a prominent sociologist from the University of California at Berkeley who is clearly quite liberal on the political spectrum. However, she had a strong desire to understand the other side of the political divide and put herself in the shoes of people who identify with the Tea Party and its followers.
Through some personal connections of people that she had met, she is able to travel to places in the Deep South particularly the State of Louisiana and spend time with real people who live and work in red states and identify with the Tea Party. She comes to understand and shares with the reader a metaphor or concept of "Standing in a long line waiting for your piece of the American dream." The typical person who she met, who she felt appeared to identify with this idea of patiently standing in line was often Christian, male, at least middle age and hard working. Of course, there were many women and younger people and other variations. But the important part of this metaphor that the "people standing in line" believed was that there were other people who were cutting into the line in front of them. These "cutters" were often immigrants, refugees, people of color and any minority you might think of. This "cutting in front of them" was usually felt to be sponsored by government action and government program such as welfare, affirmative action and other programs. There were deep emotional feelings that were connected with these ideas which appeared to block out any awareness of how many government programs have been used by their forebearers, family members and even themselves such as Medicaid, Medicare, government loans, school support, etc. In fact, many of these people actually see former President Barack Obama himself as typifying the people who they felt cheated them out of their piece of the American dream.
Ms. Hochschild clearly conveys that most of the people she met in her journey were kind, caring people who were often charitable to strangers. Some, but not all, do have deep prejudice. We see in her many discussions and listening sessions that the author had in the land of the right, there is a little room for debate, but that it requires listening and empathy to gain insight into a thinking of the people who she met. Clearly, Ms. Hochschild has a great ability to listen and is quite empathic which does not mean that she agrees with the subjects in her book.
The voyage which the author has taken is in my opinion is most amazing when she tries to understand how the Tea Party and its followers view environmental damage. She met many people who have clearly seen their beloved home state, home town and in some cases their own health and the health of their children, all damaged by gross negligence caused by big unregulated industry. You would think that people who are in this sad situation would welcome protection by government and government regulations. But instead, their predisposition against government and their view that government has been unfair to them, does not allow them to embrace the regulations that are needed to protect them.
The words of this review cannot give you a true understanding of the feelings of the people that she meets in this book. In my opinion, there are many solid facts that argue against the beliefs and conclusions that these Americans have made. The author's journey makes it clear that rational debate will not begin to heal the chasm that exists at present. Perhaps there needs to be another important book written this time by a southern Tea Party author who will come to the blue states and try to understand why so many of us are acutely aware that "there for the grace of God go us." We know the story of our ancestors and we experience the story of America quite differently than they do, but hopefully their empathy will allow them to understand us and perhaps we can all come together at some future time.
Please leave any comments below 
To purchase this book on Amazon, please click here