June 23rd, 2015 — 4:41pm
SEASON OF THE WITCH BY DAVID TALBOT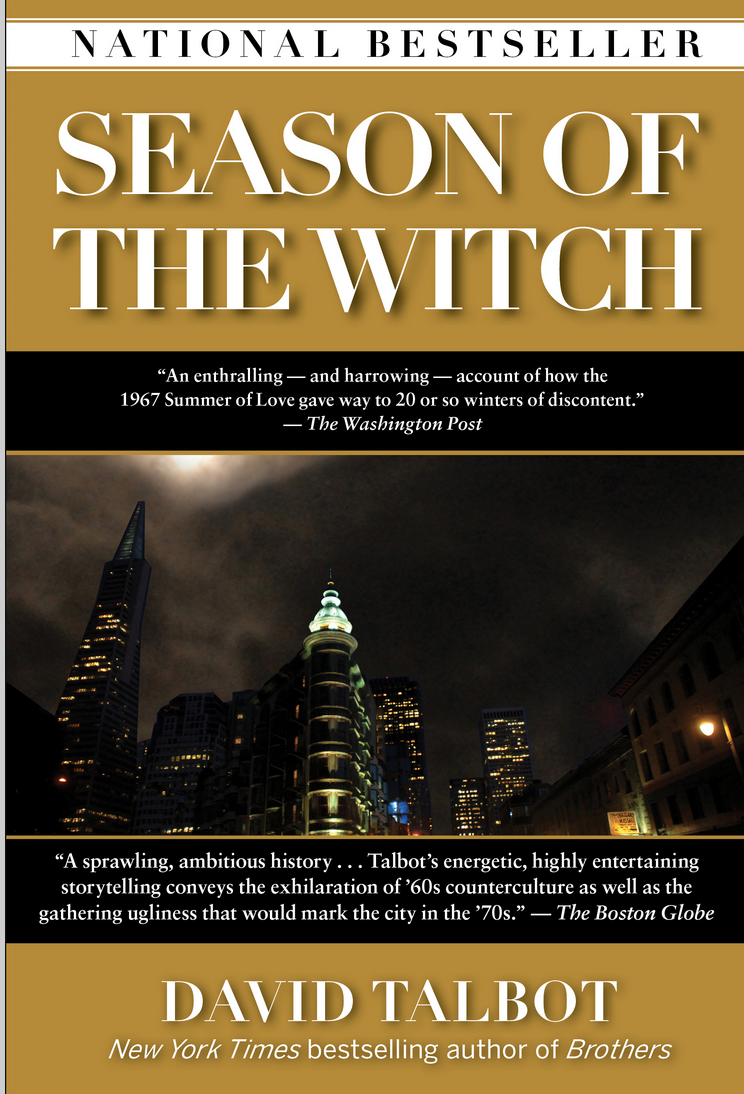 If you have ever lived in San Francisco (as I did for one year in 1965) or perhaps visited the city and have fallen under its magical spell then this book is for you. This is especially true if your connection occurred between the 20-year period of 1965 to 1985. This may also apply if you identify with the social movements or news events that originated or were closely connected to The City by the Bay.
Here is a partial list of the fascinating people, places and events that were described in great detail in this very interesting book:
Haight-Ashbury, giving birth to the Grateful Dead, Janis Joplin, The Human Be In, the Hippy Revolution, Summer Of Love.
Jerry Rubin, Abbie Hoffman, Timothy Leary, Runaway Children, Beatnik Society, Free Clinic, rock concerts, and Bill Graham.
San Francisco Chronicle, Herb Caen, Mobey Grape, Openly Gay Community, The Cockettes, Finnochios, STD, LSD, CIA, Susan Atkins, Charles Manson, Sharon Tate, Hell's Angels, Rolling Stones, and Mick Jagger.
Joseph L. Alioto, Good Earth, Vincent Hallinan, SLA (Symbinese Liberation Army), Cinque, Bill Harris, Patty Hearst, Zebra Murders, Zodiac Serial Killer, Asian Law Caucus. Margo St. James, Hookers Liberation, Lenny Bruce, Ken Kesey.
George Moscone, Harvey Milk, Dianne Feinstein, Willie Brown, People's Temple, Jim Jones, Jonestown, Guyana, Dan White , assassinations at City Hall, Edward DeBartolo, Joe Montana, Bill Walsh, HIV and the AIDS epidemic.
Although this book leaves at the end of the AIDS epidemic, we know this is just 20 years of a small but important part of the history of this great city. David Talbot, in my opinion, has earned the title of Story Teller Supreme for San Francisco. He told it like it was and what a story it has been and continues to be.
At the conclusion of this book, we are also treated to a section with photographs of some of the important players in the history of this great city that were described. These photos and the narration that accompanies, each one of them are a special dessert to the great meal this book has been.