March 26th, 2019 — 10:04pm
Time and Again by Jack Finney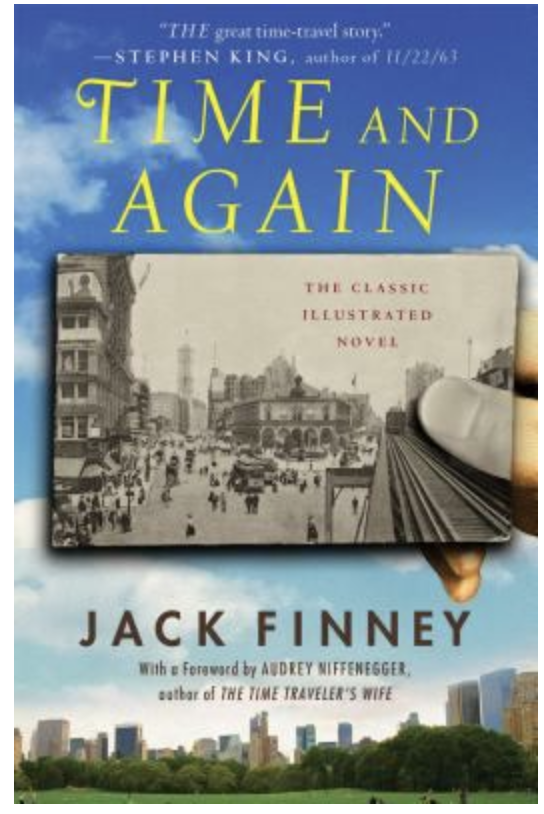 As many readers know, this 1970 novel is about time travel, a subject that comes up from "time to time" in science fiction stories. In this case, the current book by Mr. Finney is a classic book in this genre.
The method of inducing time travel in the story is by "self-hypnosis" done by a unique individual who is familiar with the circumstances in the setting to which he is to travel and would be in a location which existed in the past as well as in the current time. It also is required that the time traveler has the ability to do self-hypnosis. Since I know a little about hypnosis, I found this method did not feel acceptable to me to induce "time travel" and therefore, I found it difficult to suspend my reality testing and imagine the method that was being used to achieve this goal. Whereas, another well-known book titled, 11/23/63 by Stephen King used a time travel method known as "rabbit hole" where the traveler steps through an opening such as one in the story that was in a pantry and then comes out in a particular time period and when he returns, he uses the same method to return to the time from which he departed. This method seemed more feasible to me. Go figure, I can't really justify this critique.
Aside from the method of travel, the key problem in time travel is whether the time traveler will influence or effect or change events in the future (or in the time in which the traveler originated). This, of course, is a fascinating concept and is, in fact, a key element around which the story is built. Well, I don't really accept the possibility of time travel at all. This aspect of theoretical time travel reminds me how everything we do influences the future. For example, if I had not accepted a blind date many years ago, my children and grandchildren would not exist as I know them today and my life would be quite different. Therefore, in some way, we all have influenced other people's lives and maybe the course of history by every element in which we appear and interact with others. I find this interesting food for thought, but otherwise, this book was a fairly good adventure story with a few moments of literary tension.
Your comments are always welcome below
To purchase a copy of this book from Amazon, please click here