July 6th, 2014 — 2:07am
The Victory Season: The End of World War II and the Birth of Baseball's Golden Age by Robert Weintraub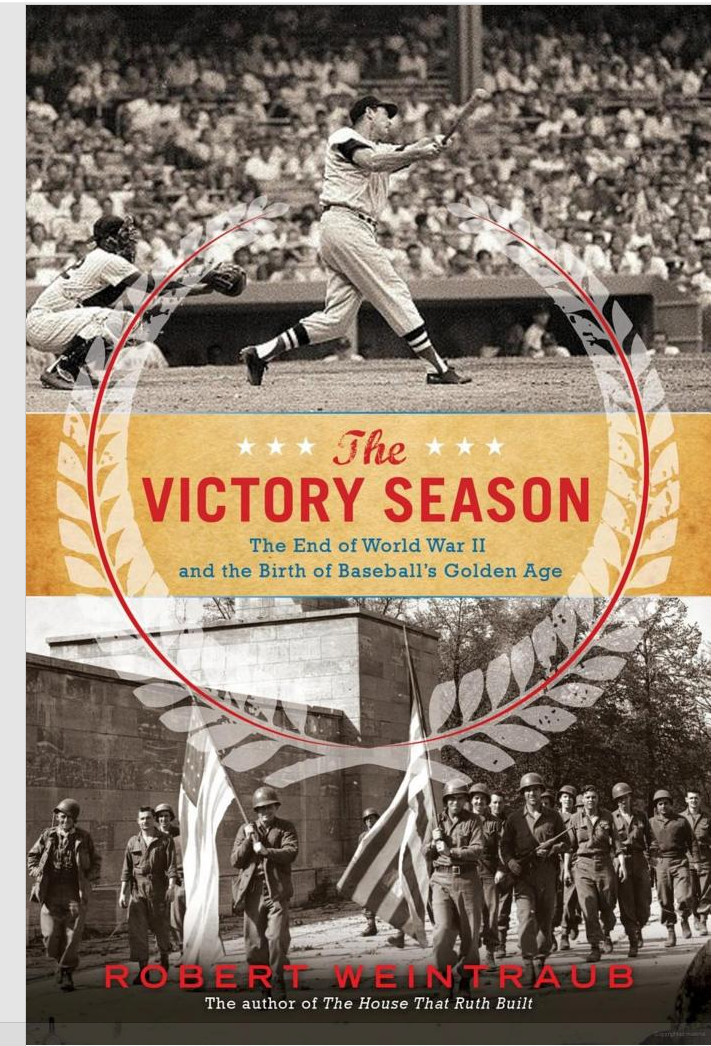 In order to determine if you might like this book please take the following quiz. Match the names or phrases in column I with those in column II.There may be more than one answer for each entry in column I. Answers are at the end of the review.
I                                                            II
!- "The Man"                                                 a- Joe Cronin
2- Wife's name is Rachel                                  b- Stan Musial
3- New York Yankees                                      c- Jackie Robinson
4- Brother of "The Hat"                                  d- Enos Slaughter
5- Known for great base running                       e- Ted Williams
6- Brooklyn Dodgers                                         f- New York Yankees
7- Wore number 42                                          g- Dixie Walker
8- "Country"                                                h- Joe DiMaggio
9-"The Cat"                                                 i- Harry Bracheen
10-Married actress Laraine Day                          j- St. Louis Browns
11- "The Splinter"                                          k- Pete Reiser
12- Korean War Fighter Pilot                             l- N.Y. Giants
13- "The Thumper"                                      m- Leo Durocher
14-Played for Montreal Royals                          n- Dom DiMaggio
15-Hero of 1946 World Series                           o- St. Louis Cardinals
16-"The Little Professor"                               p- Boston Red Sox
17- Participated in 1946 World Series                  q- Branch Rickey
18- Larry MacPhail
19-"The Lip"
20-1946 Most Valuable Player Award
There are 37 correct answers by my count. So if you get 12 or more correct , you are batting over 300 which I believe means that you will feel at home with this book. Likewise if you are of a certain age and followed baseball as a kid, chances are you will get great pleasure from this book. Finally, if you are younger than a certain age and just enjoy the history of baseball, you probably will find this book quite interesting.
The book focuses mainly on 1946, the year after the end of World War II but the author Robert Weintraub will frequently dip into the past for background or give some glimpses into what happened to various people years to come after this year. He also includes interesting tidbits about the Nurenberg Trials of Nazi war criminals that were going on during 1946 which are quite fascinating. The book also covers the war experiences of many prewar major leaguers who went off to war, some of whom came back to become household names as major league stars. There is also the account of some baseball players who went off to fight but did not come back or were never able to resume their careers.
1946 was also the year that Branch Rickey decided that he was going to integrate baseball and found a great UCLA athlete to be the baseball player to do it. In this year Jackie Robinson was made a member of the Dodger's number one farm team, the Montreal Royals. The account of this adventure and the final bringing Robinson into the big leagues the following season, is a good enough reason by itself to read this book. I thought I knew this story quite well but I never realized that when the club owners all voted upon whether to bring him into major league baseball, the vote was 15-1 against doing it with only Rickey voting yes. The account goes on to explain how Rickey was able to pull things off despite this vote by the other owners.
Ted Williams and all the nick names he was given is amply covered in several chapters of this book. The case is made that he probably was the greatest player of his generation despite a mercurial personality that was hard to understand. No doubt he was a great competitor and did mature during his career. He probably was the only player in baseball history who received a standing ovation when he decided to bunt down the third baseline. You may remember there was the "Williams Shift" where the infield was moved around to the right with a short right fielder in place since that is where powerful Williams would usually slam the ball. Williams was usually reluctant to take a nearly sure thing rather than try to power away and pull the ball. He also probably was close to all time high in walks since most pitchers were reluctant to pitch straightway to him anyway.
As someone who grew up in Brooklyn I was most familiar with the Brooklyn Dodgers with Yankees and Giants being also known to me. Even though I was well below my adolescence during the pivotal year of 1946 which this book centers upon, so many of the characters who played a role in this year continued their careers for at least another 8-10 years that they were well known to me. I will have to give credit to Red Barber, Connie Desmond and the then young Vin Sculley who were the Dodger radio announcers and always had great stories about all the players. While I had a familiarity with many of the key players I did not recall much about the pennant race of 1946 and particularly about the World Series. Author Weintraub provided all the details and laid them out as if they unfolding before the avid baseball fan that I was in my younger days. Sometimes, particularly in the World Series, I felt I was almost in the stands watching the Red Sox and Cardinals battle it out and somehow I had stake in the outcome.
The "piece de resistance" was the author's detailed description and even more detailed analysis of the "Mad Dash." This was the play where Enos "Country" Slaughter scored what turned out to be the winning run in the final game of the 1946 World Series, from first base on a base hit that was probably just a single by Harry "The Hat" Walker. Exactly how the ball was fielded by Leo Culberson and a microscopic analysis of how Johnny Pesky handled making the relay throw to the plate is only something a true lover of baseball could appreciate. If this is up your alley you are sure to enjoy this book.
Answers: 1bo 2c 3h 4g 5cdk 6cgkmq 7c 8dof 9i 10m 11e 12e 13e 14c
15d 16n 17 abdinop 18f 19ml 20be